Earlier this week we placed a pillow over Raptor Safari's face and pressed down, gently but firmly. More plainly:  We are suspending development of Off-Road Velociraptor Safari HD/64 with no plans to resume development in the foreseeable future. So what happened? We've been quiet lately, so let me fill you in.
Note: If you're already raging about the status of your pre-order, skip to the end of this post. Otherwise, in chronological order…
Chasing the High-Definition Dragon
We launched development of a new Raptor Safari using the original version as a proof of concept prototype.  The plan was to extend the gameplay, adding new modes and missions, and significantly overhaul the art.  Our art production default was to take the same general look of the game and produce it with modern standards, which seemed like an obvious move.  We went with an "HD" suffix and recreated the prototype environment as our first step.  Here's what we ended up with after two months of art production:
Off-Road Velociraptor Safari: HD from Flashbang Studios on Vimeo.
We brought this trailer to the Game Developer's Conference and showed it to potential distribution channels, friends, and partners.  With this feedback, and a little reflection, I realized we had made a mistake.  It was a trap to pursue the "HD" expectations of platform stakeholders, players, and even ourselves.  It narrowed our possibilities instead of expanding them.  We were spending time on normal-mapping our rocks, a very dangerous thing indeed when your team is 3 people.
Changing Gears
Shortly after GDC we completely rebooted the art style of the game.  The goal  was to create a look that relied less on raw production man-hours and more on style.  A unique look would also allow us to dodge preconceived expectations of players and platform gatekeepers.  After two intensive days of work, this became our new visual target:
To be clear, this is not just inspirational imagery.  This is how we wanted the actual game to look.  To accompany this target render, Ben also produced a style sheet to summarize our influences:
We've been working on the new look for a few weeks and have been making significant progress towards real-time implementation.  There are a lot of challenges in a look like this, especially making the game look good in motion (temporal coherence), but the results we had so far looked promising.
So Why Stop?
There are a lot of reasons why we are halting development.  Some of them are  practical.  Much of Flashbang's revenue stems from affiliate programs in the casual market.  Many of these programs are either shuttering completely or have drastically altered their terms in punitive ways, probably as a result of the casual market itself being hurt by Facebook/web games.  Regardless of why, our financial projections suddenly went from a year of smooth sailing to a runway of only a few months.
I don't want to give the impression that this is purely a financial decision, because it's not.  Impending poverty forced us to make some decision, but it wasn't the source of our problems.  I don't think we would continue development at this point even if a sack of free money fell right into our laps.
Partly, the issue is one of context.  Developing a good single-player experience is an exercise in perfection and polish.  Our Blurst style of development, where we can get away with "good enough" in many areas of a game, doesn't match up well here.  There more I blocked out development in terms of making one really good game, the more I realized we're not ready for that kind of commitment yet.
Finally, the project itself is quite muddy.  It isn't blindingly obvious where to take it yet.  I can blame this on tactical errors I have made, in terms of where I placed our priorities and where I spent my time, but the end result is still a lack of clarity.  And finding that clarity is a very taxing job; we're just too burnt out to make it happen.  When I imagine a year of Raptor Safari development, I feel drained, and when I image a year of something else I feel energized.  The rest of the team feels the same way, so our choice was clear.
What Next?
So what's next for Flashbang?  In the short term, we're looking to pick up contract work as a team.  I cast out nets a few weeks ago–to fund continued Raptor Safari development–so this is an easy move.
Longer-term, things will slowly diverge.  We've pulled the release valve and distributed company savings to individuals.  This means Flashbang itself no longer has any salaried employees, but don't worry!  We'll still be here.  This is the same model we used for the first 5 of our 7 years as company.  The office will morph into a shared workspace for individual projects and collaborations.
Personally, I plan to spend time on Blurst features (particularly a pipeline to bring some of the 3rd-party submissions online).   It's hard to say what we'll all be doing in four months. Perhaps new experiments will make their way onto Blurst as polished prototypes, or maybe we'll try our hand at the roulette game of the App Store. There are a lot of possibilities in front of us!
I Pre-Ordered!  What About Me?
First of all, thank you! All Blurst orders are announced via our office text-to-speech system.  It always lifts our spirits to hear a purchase during the middle of a work day.  You guys rock.
We have expanded Raptor Safari HD pre-orders into Blurst Bundle Pack orders.  If you go to your profile you'll now see downloads for all of our games.
If you opted to send us extra money with your purchase, you are especially awesome!  We will be contacting you soon with a special something.
We may still finish Raptor Safari at some point, although certainly not anytime soon (not this year, or even next year). It's entirely likely we will never ship it.  We totally understand if you're uncomfortable with holding a pre-order for a project that may never see the light of day.
If you would like a full refund, please email me directly and I'll square you away.
Thanks!
Once again, thanks for being a Blurst fan and Raptor Safari player! You guys are why we do what we do. To be clear, we're actually in a positive state of mind about this. We aren't depressed! It feels like a relief to spend time on awesome prototypes and ideas again.
I'll be happy to to answer any questions in the comments.
Best,
Matthew Wegner
Founder, Flashbang Studios
Comments | Tags: Raptor Safari 64
Hey loyal Blurstizens! It's been a few weeks since we last updated you on our progress with Off-Road Velociraptor Safari HD. We've been hard at work rebuilding much of the original game to eventually expand on it and add more Raptor goodness. Today we're happy to give out our first official development build of Raptor Safari HD for people that have it pre-ordered. Those of you that have pre-ordered should be able to download the dev build from your profile page right now! If you haven't pre-ordered Raptor Safari HD yet, it's not too late to do so. Head over to the Raptor Safari website and pre-order your copy now! You'll have access to the new development build as soon as you pre-order.
Much has been changed and updated in this build. We'll always keep you up-to-date with the latest build changes on the Raptor Safari website, but here's a few changes I'd like to highlight.
New Tuning
Though not finalized yet, Matthew has spent a better part of a month solely on retuning the driving mechanic. We've been taking in loads of feedback about how the driving feels and have now applied it to the vehicle physics model. Arguably the most notable of the tuning changes is that the xbox 360 controller is now supported on Windows and Mac. As another plus, Windows users will have some nice vibration feedback when using the 360 controllers. Feel the jolt of every Stunt Jump landing and every Raptor Roadkill!
New Art
Ben has been hard at work upgrading all of the original game's assets to push the game into the Next-Gen category. You'll notice the world is much more dense with vegetation and obstacles, most of which have been upgraded with normal maps, higher resolution textures, higher polygon models, and more. There's still much work to be done, but what's done now should give you all an idea of what's yet to come.
New Effects/Graphics
You'll notice some new effects and graphics popping into this build. We've implemented some Post Processing techniques we've used in past games like Jetpack Brontosaurus and Blush along with some other effects you've never seen before in our Blurst games. In the Facebook version we showed off the beginnings of real-time dynamic shadows. Now the shadows are higher quality and work on more objects in the world (for those of you with machines that can handle it). We've also thrown in anti-aliasing for the Danny Bs among you.
Let us know what you think! If you find any bugs/issues, have any suggestions, or just want to tell us how awesome Raptor Safari is head over to our support page and let us know! Be sure to follow us on Twitter and be a fan on Facebook to stay up-to-date with everything that's happening in Raptor Safari HD.
And here's a teaser of what's to come later in the year! Yet another awesome piece by our concept artist Justin Messner.
Comments | Tags: Off-Road Velociraptor Safari, Raptor Safari 64
We've been hard at work on the new Off-Road Velociraptor Safari HD version! It's been awhile since we posted at the blog, so here's a quick overview of what's been happening (by the way, the best way to keep up with Raptor Safari news is via our Facebook page or Twitter account):
The new Off-Road Velociraptor Safari HD website has embedded Facebook and Twitter widgets, so you can easily follow us there, or simply visit the page for the latest information.  We'll be adding new content to the site over time, so make sure you check it often!
Pre-Ordering
You can also pre-order Raptor Safari HD for early-bird price of $14.99.  If you have already purchased Raptor Safari or the Blurst Bundle Pack, there is nothing more you need to do–the HD version will automatically appear in your Blurst profile.  Thanks for believing in us!
Pre-orders will get:
Early access to development builds (first build this month).
Insider communication with the development team (give us your feedback)!
That warm, fuzzy feeling knowing you're supporting independent development
We're working out some other special surprises for pre-orders, too, so stay tuned!
New Dinosaurs!
You may have noticed that we've been posting a bunch of new dinosaur screenshots in the last week.  This is all thanks to our good friend Andy Schatz at Pocketwatch Games.  Andy is now working full-time on his IGF-nominated game, Monaco.  Savvy dinosaur fans may remember that he was working on Venture Dinosauria, an ecosystem game all about these great thunder lizards.

Andy will return to Dinosauria at some point, but in the meantime we've worked out an exclusive licensing deal to the Dinosauria models.  We have unfettered access to the source files, so we'll be changing them up a bit to meet our needs, but you'll start seeing these gorgeous beasts appearing in Raptor Safari development builds very soon!
Because Andy is both a hero and a gentleman, you can use coupon code "Schatz Special" for 20% off your Raptor Safari HD pre-order.  Limited uses, so hop to it!
Comments | Tags: Off-Road Velociraptor Safari, Raptor Safari 64
The new Facebook version of Off-Road Velociraptor Safari isn't the only thing we've been working on at Flashbang. Most of our energy is being spent on the next version of the game, Raptor Safari 64. This new version will ultimately be a thing of perfect HD beauty. Here's what we're going for (as painted by the excellent Justin Messner of Time Donkey story card fame):
Right now we're planning a late 2010 release. Current Raptor Safari owners will get exclusive access to development builds of the game, as well as the final PC/Mac release (think of it as pre-ordering). If you'd like to get it on that make sure you take advantage of our 2-for-1 Raptor Safari holiday special!
Comments | Tags: Off-Road Velociraptor Safari, Raptor Safari 64
We just launched a version of Off-Road Velociraptor Safari on Facebook. Check it out:
It's not an exact copy of the version here on Blurst. Here's what's different:
Shorter time (2 minutes).
Facebook leaderboard. Compete with your friends!
Score-based trophies. Brag on your wall!
Some new things from Raptor Safari 64 (shadows!)
We still have a few tweaks and changes that we'll be rolling out this week. Primarily we'll be rebalancing the scoring a bit to accommodate shorter play time and to reward combos more heavily. These updates will happen automatically.
For now, go play and let us know what you think! The best way to leave feedback is to become a fan of the game and post something to our wall. Make sure you become a fan of Blurst, too! You can spread the word by bragging about trophies or by directly inviting friends.
Comments |
It's that time of the year: The time when companies desperately make one final grab at Q4 profits under the guise of consumer-friendly holiday deals! At Blurst, we don't even know what "Q4″ means, but we're happy to set up a great 2-for-1 Raptor Safari deal! Starting today until the January 1st, 2010, receive a free Off-Road Velociraptor Safari gift code with any purchase from the Blurst store!
So how you can take part in this Christmas miracle?
Here's how it works:
Buy something from the Blurst store.
Get an extra Raptor Safari code, free!
Paste this code to a loved one.
Enjoy the holiday spirit.
Both you and your loved one will enjoy:
The downloadable version of Off-Road Velociraptor Safari.
Early access to its amazing HD sequel, Raptor Safari 64.
The satisfaction of a job well done.
Act now!
Comments |
The holidays are here, which means a lot of you Blurst fans and general gamers probably have your wallets thinned out from all the games you've been buying for your friends and family members (yourselves). Since you are a gamer, and we are gamers, and we all have an irrational desire to spend more of our time and money on the playing of said games, we decided to make it a little easier for everyone. The highly-saturated-with-Blurst-blue image you see in this post is actually a greeting card you can print out, fold up, and distribute amongst your loved/liked ones.
In addition to having some of the most seminal and historic of our characters decorating the inside, there is a coupon code printed on the back! So if the recipient of the card does not exhibit dichromacy color-blindness and is literate, they should see it and be able to immediately take advantage of it. Of course by "it" we mean 25% off of a Raptor Safari purchase! Since Raptor Safari is pretty much everyone in the free world's favorite game, you can thank us for our immense generosity by buying it and telling all of your friends to buy it.
Comments |
Good day, Internets!
It's been awhile since we chatted (by the way, the best way to keep up with us is via our Facebook fan page). After we stopped our 8-week cycle we decided we should take a week or two off before we really got back into the saddle. As of last Wednesday, it's saddlin' time!
We have now entered full production on a new version of Off-Road Velociraptor Safari, which we're internally calling Raptor Safari 64 (you can thank Colin Northway for that one). We don't have an exact development schedule, yet, but it'll be much longer than any of our Blurst projects. Right now we're loosely targeting a fall 2010 release, scoped to be worth $15 or $20 of your hard-earned money.
So what are we up to?
Business Development
I'll be honest: It's strange to go from our own Blurst.com world, where we have zero gatekeepers between our work as ideas and our work as something you guys can actually play, back into the "real" world, where you have to communicate unimplemented ideas to others and convince them you have savvy and merit and stability and all that. A larger version of Raptor Safari is a great fit for mainstream platforms, like say console downloadable, so we've initiated contact with the proper authorities to make this happen.
Fortunately, we have been around for over 6 years, and I've been a logistics dude/co-chair at the Independent Games Festival for three years running; we do have some credibility! Still, "biz dev" is something we've deliberately avoided, and it's a little uncomfortable to get back into it (like a pair of dress shoes you only wear once every three years when some relative you've never met gets married, and at first the shoes seem really fancy and you're hopeful the ladies might even notice but after a few hours your feet just hurt and all you want to do is go home and watch Alf edits on YouTube).
By the way, when it comes to objectively measuring Raptor Safari's reception, things like this really blow my mind:
Results 1 – 10 of about 1,150,000 for "off-road velociraptor safari". (0.09 seconds)
That's a phrase search, people! 1.1 million instances of those words in exactly that order! That was literally zero results before we launched ORVS, almost two years ago…
Game Development
The first phase of the new version's development is to redo much of what we have already. Raptor Safari is one of our oldest Unity projects–primarily developed during the Unity 2.0 alpha, for any of you Unity nerds–and there are a lot of things we want to do to its foundation before we start adding new rooms to the house.
Our plan of attack is to first improve the production quality without increasing game scope. This means we're now creating a nicer-looking, faster-running, better-coded version of the original game. Once we have this high water mark set, and a stable base to build on, we'll begin pushing laterally to increase the scope, with new environments, new dinosaurs, and more things to do.
Of course, a small number of features will naturally fall out of systems as we rewrite them. Here's the first tiny new feature to make an appearance–raptors will desperately try to fly if they find themselves in midair:
Early Access to Raptor Safari 64
Development builds of the game will be made available to players who bought the original game. We may need to cut off new users at some point, depending on our negotiations with console manufacturers; the only way to make sure you can play the new Raptor Safari during its development is to buy the game today. You can pick up at a copy over at the Blurst store, in either standalone or bundle pack flavors.
We don't have any dates to share on when these first builds will be appearing, yet, but we'll be wanting to get these out as soon as possible to begin testing performance/hardware compatibility. It may be a very merry Christmas!
More Stuff!
We have a few more things up our sleeve to talk about, including how our Blurst developer call for submissions is going, games on Facebook, and even a new company altogether somewhere in there. Stay tuned for more!
You should become a Facebook fan or follow us on Twitter to stay in the loop!
Comments | Tags: Off-Road Velociraptor Safari, Raptor Safari 64
Blurst is now one year old! We launched Blurst.com as a unified destination for our quirky games just over a year ago. What a year it's been!
Public Prototypes
Previous to Blurst we had launched Splume, Off-Road Velociraptor Safari, and Jetpack Brontosaurus on their own domain names. Our plan of attack, back then, was to release a number of game ideas "into the wild", so real players like you could play them and help us judge the relative merit of each design. After some time we would identify a winner, and subsequently develop that idea into a $20 of value (for downloadable release on PC, console, etc).
The Blurst of Times
Midway through this plan, though, we realized that if we put all of our games in one place, we might be able to create a compelling place where people could find small implementations of cool, original ideas. If we continued to make games quickly, we could build this destination to the point where it could survive on its own, and we continue making small games indefinitely.  This thought process resulted in Blurst, and we focused the company on making it work.  Our goal for 2009 was to create six 8-week games, each one unique, to push Blurst in this direction.
To date we have released 4 of these 8-week games scheduled for 2009 (Blush, Paper Moon, Crane Wars, and Time Donkey).  Development was stressful at times, but we're very proud of what we've been able to do in just two months each!  But something wasn't working.
Changing Gears
Blurst hasn't met our expectations.  More specifically, Blurst's traffic has not increased to levels where it will pay for itself.  We could continue to fund Blurst's development through contract jobs and other means, as we have been, but we feel like there are too many roadblocks between now and a time when Blurst itself pays our bills.
So we're returning to Plan A.  We are halting development of our 8-week projects and beginning longer-term development on Off-Road Velociraptor Safari. There won't be a November 1st launch.
We feel that launching another 8-week game won't change the playing field for us.  No new possibilities will open up with one more game; we'll be roughly where we are now, except two months poorer and two months behind on doing something that could change things up.  By contrast, we feel like a strong ORVS standalone version will open some doors and provide us with more flexibility and opportunities than we have now.
Future of Blurst
Raptor Safari will be our focus over the next few months, but we will continue development on Blurst itself!  There are new website features in the pipeline that we'll launch, and we'll do our best to support our community as we work on Raptor Safari.  If you have purchased Raptor Safari, or the game bundle, you will have access to development builds throughout development, as well as a copy of the final release.  Buy now before the price goes up! ;)
We'll announce more details about schedule, platforms, and all of that jazz before too long.  In the meantime, thank you very much for being a fan, for playing our games, and we hope you're as excited about Blurst's future as we are!
Comments | Tags: Off-Road Velociraptor Safari
Captain Forever Wins IGF China!
The first of many plaudits is draped on Captain Forever. All is right in the world.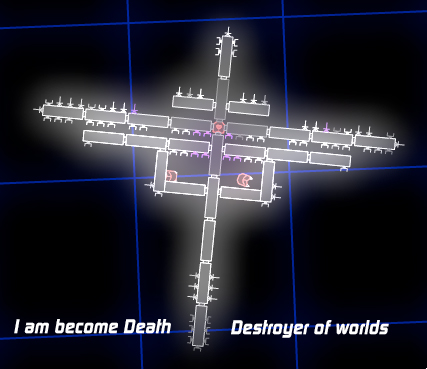 We proselytize about this game often; a few words about its design.
In Captain Forever, the player constructs a ship.  That ship is then tested against algorithmically generated ships that drift slowly through the game's infinite playfield.  Scavenging the parts of destroyed ships, your ship grows and evolves. There are ten levels of girder, thruster, and guns – on a scale from green to white.  The game always sends some ships of a much higher level  into the fray, providing that oh-crap-time-to-run kind of feeling. Green is prey, white is terror.  As in Spore, skillful play enables you to later be that massive ship, fearlessly preying on smaller and weaker ships. The feeling of mastery over previously mighty enemies rarely so delightful.
As a soundbite, Captain Forever is what I wanted Spore to be. Not the intricate simulation, but what most excited me about Spore: meaningful construction. The placement of parts on your ship has a deep, satisfying impact on how effective that ship will be in the ecosystem of the game.  It also has an immediate, visceral impact on the feel of control. A well-constructed ship both feels good to control and is effective in the game. It's a perfect marriage of construction and utility, a perfect balance between skill and construction.  There are so many strategies and so many ways to build an effective ship.  Depending on your construction, you may adopt a new style of play. Or you may see a particular ship you want to attack, and quickly rebuild to a more optimized battle configuration.  It's so fluid; building happens in the middle of battle.  The marriage of construction and play is seamless and simultaneous.  The game's ecosystem is perfect in conveying meaning to your construction.
The game is an epic moment generator. As you fly around, there is running internal monologue: can I defeat that ship? Will it be worth the damage I'll sustain? How does that ship stack up against my current construction?  Can I destroy that ship without damaging the parts I want? What will my ship be if I get those pieces?  Sometimes an attack on a massive ship many levels higher than you will result in the destruction of most of your ship. But sometimes you're able to worm your way into the innards of that ship, a parasite, and chip away at its core until it succumbs.  A fight might take five minutes to complete. And then a mad scramble to rebuild before the next massive enemy frigate rolls through.  First girders, then steering jets, then a gun of some kind. You must always be ready to zip away, and that means having a balanced controllable ship at all times.
It's also possible to 'kite' two large ships together. Higher level ships ignore the puny unless provoked. Provoking two ships and running them into each other to wear them down a bit is obscenely satisfying. It's just so good.
Nuts and Bolts
There are hundreds of small, brilliant decisions that make all this work. Many of them are tuning: Box2d is used masterfully here, and each level of girder, and gun, and thruster is immaculately tuned to its own level and to the other levels. A purple thruster on a ship made of orange pieces means crazy speed. Orange thrusters on a ship made of purple girders leaves your ship pathetic, unmaneuverable.  Guns are relatively light, but they need girder space.
Construction is simple and intuitive. As you click and drag a piece around, it tries to orient to the nearest attachable surface. It does this just slowly enough to allow you to fiddle pieces to just the position you want. I still occasionally pull off a piece unintentionally, but I always feel as though it's my fault; I was hurrying too much and slipped up. This is perhaps the most difficult interface problem in this design, and it's been solved masterfully. You don't think about it, you just put the pieces where you want them. No small design feat.
Another brilliant design cluster is in the notion of ship "hearts", and the tree branch model of damage and destruction Farbs employs.  To win another ship's pieces, you must destroy its heart. But its heart is often its center, the main note to which all other pieces are attached. Ipso facto, it's difficult to shoot, especially without destroying other parts. But the whole reason you attack a ship is to get its parts. This tension, between desire and danger, is exquisite.  Likewise, when a piece is destroyed, all pieces attached to that piece are also destroyed. This forces even greater caution and though in one's angle of approach on a potentially lucritive enemy target.  You can't try to blow off just a wing and then salvage the bits that break loose: you have to go whole hog, all or nothing. You have to destroy the ship to save the wing, with all its juicy gun and thruster goodness. This is just plain old fashioned awesome game design. Pure, elegant, excellent.
This game tickles my brain in all the right ways. It is, as so many other great games have been, a recombination of familiar elements.  In the relationships between these elements, Farbs has found something new, beautiful, and elegant. A well deserved win for Farbs and his amazing game. Cheers.
Comments | Tags: Game Design

Minotaur China Shop iPad Tease 1885 days ago
5.0K views

Minotaur Dance Party 2017 days ago
7.4K views

Visualizing Raptor Safari Data 2040 days ago
4.5K views